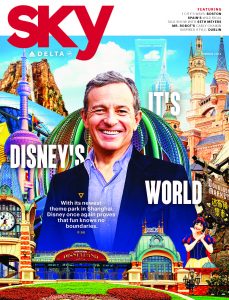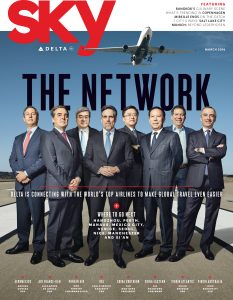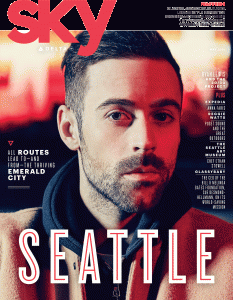 This Minnesota-based custom magazine for Delta focuses on travel, business, lifestyle, and entertainment.
Type of magazine: Custom
Publication frequency: Monthly
Percentage of travel content: 90%
Language(s): English (and one Spanish section)
Publisher: MSP Communications
Location of editorial: Minneapolis, Minnesota
Website: www.deltaskymag.com
Editorial positioning: "Sky blends the beauty and allure of travel with smart and compelling content, giving readers thought-provoking insight into the people, places and companies that are making things happen. Sky's features spark curiosity and inspire exploration, opening up the world to those who are already traversing it."
Read online: deltaskymag.delta.com/Magazine/Past-Issues.aspx
Circulation: 603,000
Total readership: 5,443,000
Target audience: The audience is made up of affluent vacationers and business professionals who are socially active, quality-conscious, and ambitious. Readers are 51% female and 49% male. They have a median age of 45 with an average household income of $128,395, 75% are homeowners, and 83% are college educated.
Editorial structure

Front of book sections: "Welcome," "Wheels Up," which contains "Trending," "My Bag," "Time Out," "The Network," "Five Minutes With," "Tools of the Trade," "My Favorite Street," "Center Aisle," "Style Inspiration," and "Break Away." "Fork in the Road," "Pop Biz," "Talk Show," and "1 City 5 Ways."
Features: There are usually two features per issue which are not found in pre-established categories.
Back of book sections: "Profile," "In-Depth," "Despegando," and "30,000 Feet."
What to pitch: There about 15 contributors per issue. Sections that writers contribute to are "Trending," "Time Out," "5 Minutes With," "Tools of the Trade," "Break Away," "Pop Biz," "1 City 5 Ways," the features, "Profile," and "In Depth."
Sections contributed by members of the editorial staff include "The Network," "Center Aisle," "Talk Show," "Despegando," and "30,000 Feet."
"Welcome" is written by CEO of Delta Airlines Ed Bastian, "My Bag," is written by regular contributor Matt McCue who also writes "My Favorite Street," "Style Inspiration" is written by contributing fashion editor Elizabeth Doyle, and "Fork in the Road" is written by contributing editor Andrew Zimmern.
"Trending" is a 250-word article which covers a destination, usually in the U.S. In second person, it describes why the reader should visit and what they should do when they are there, which are found under the subheadings of "Why Now" and "Where to Go" respectively. There is a sidebar called "Hit the Town" which rounds up three suggestions for food and drink in the destination such as a restaurant, a bar, and a café, with a short description of each. Recent destinations covered include Atlanta, San Juan Island in Washington, and New Orleans.
"Time Out" covers cities worldwide and offers the readers suggestions for what they could do there if they had an extra day to explore. The article is about 350 words and is written in a second-person conversational tone. After a 100-word introduction to the city, there is a round up of four sections of recommendations, such as restaurants, shops or activities, with one to four suggested places within each. Destinations recently covered include Buenos Aires, Mexico City, and Provo.
"Five Minutes With" profiles the founder or CEO of a company in about 500 words. After a 100-word third-person introduction, it takes the form of a Q&A. Questions focus on the person's job, how their company started, and what it does. People recently profiled include the co-founder and CEO of Basecamp Jason Fried, co-founder and CEO of BRRR° Mary-Kathryn Kolb, and founder of Because International Kenton Lee.
"Tools of the Trade" takes the form of a profile covering someone who uses a unique item, often food or from nature. Articles are about 200 words long and are written in third person with quotes from the person profiled throughout. The article covers what they do with the item and why it's unique. There are two sidebars to accompany the article. The first rounds up three interesting facts about the item being covered and the second rounds up three destinations worldwide which use or celebrate the item in some way. Recent profiles include Mikey Franco, a snowboarder who uses white bark pine trees to make custom snowboards, Nick Kim, a sushi chef who uses artisanal Kinmemai rice in his restaurant, and Steve McCarthy, who uses Douglas fir tree in his distillery.
"Break Away" is a 500-word article in which the writer recounts their trip to a destination worldwide. In a first-person narrative style, the article could focus on one aspect of the trip, such as the hotel or one activity, or take a broader view and cover what the writer did and saw in the destination as a whole. There are often quotes from relevant people such as local business owners or tour guides. The tone is conversational and often humorous. Examples from a recent issue include "Mid-winter Magic in Mexico," which covers the writers stay at Chablé, a wellness retreat in the Yacatan jungle of Mexico, "Right On the Button," in which the writer describes playing Crocicurl in Winnipeg, a new made-up game which combines curling and a Canadian board game, and "A Cultural Awakening," which covers the writers trip through India focusing on her experience of the culture.
"Pop Biz" is a 1,000-word, third-person article about breakthroughs and trends in business featuring companies and professionals who are making advances in their industry by innovating and thinking differently. Quotes are often used throughout from those involved with the trend or companies covered. Recent examples include "Everyone's a Winner," covering websites where users can donate to charities and be entered into competitions to win once-in-a-lifetime  experiences, "The World is Their Office," which describes the rising trend of digital nomads including quotes from people with this lifestyle, and "The Branding of You," about how retailers are moving into markets like fashionable office supplies to help customers build their personal brands.
"1 City 5 Ways" showcases a city in five different ways to appeal to five different tastes and preferences in a second-person, 700-word long article. A recent article featured Boston and broke the city down into the categories of those who identify as a foodie, historian, sports fan, adventurer, or modernist. Within each category, the writer suggests where to stay, where to eat, and what to do during the morning, afternoon, and evening. Recent cities featured include Amsterdam, Minneapolis-St. Paul, and Bogotá.
There are usually two features per issue with one taking the form of a celebrity profile and the other being a travel-focused round up. All features range from 1,000 to 2,000 words long and are written in third person. Profiles include a short third-person introduction which is then followed by a Q&A with questions covering the celebrity's career and personal life. Travel features usually take the form of a round up of similar activities in destinations worldwide. Recent features include "Viola Takes a Bow," which profiles actress Viola Davis on her childhood, career, and charity work, "Nature + Nurture," which rounds up six destinations with options for both adventure and relaxation activities in each, and "Live From New York," which rounds up 16 of the best live-music venues in the city.
"Profile" looks deeper into a specific city and is broken up into three sections called "Business," "Q&A," and "Tourism" with four to ten articles in total. Cities are mostly in the United States with the occasional international destination. Within "Profile," "Faces of [name of city] Business" is written by regular contributor Jennifer Bradley Franklin and "Q&A" articles are written by staff. "Business" articles are written by contributors and cover the city's economy, growth, and the industries and companies shaping that city. "Travel" articles, also written by contributors, cover facets of the city that are appealing to travelers such as culture, food, and sports activities. Articles can be written in second or third person, include quotes, and run from 500 to 1,500 words long. Recent cities covered include Columbia, South Carolina, Minnesota, and Upper Peninsula, Michigan Examples articles from the Columbia profile include "Open for Business," found in the business section, which covers how the destination's downtown area is reviving with businesses and urban centers, "Columbia's Comeback," also found in the business section describing the cultural revival of the city through with art, museums, galleries, and restaurants, "Fresh-Air Fun," in the travel section covering outdoor activities in the city such as parks, walks, and the zoo.
"In-Depth" covers one topic in-depth in about 1,500 to 3,000 words. Articles can cover trends, stories, or simply inform the reader on topics in technology, health, business, or lifestyle. The article is written in third person, with some brief uses of second person, and includes quotes from multiple sources throughout, usually from experts on the topic. Examples from recent issues include "Wellness from Within," which covers self-care and what women in particular can do to look after their mental and physical health, "Engineering Better Minds and Bodies," covering the use of alternative health tools especially the use of technology such as smart clothing, cold therapy, and tools to improve sleep, and "The Fast Track to Stability," which covers the different types of franchises and new trends in this area.
Are there additional opportunities online? No
Pay rates: Writers have anonymously reported $0.77c per word
Phone: 612-373-9613
Email format: firstinitiallastname@deltaskymag.com
Size of editorial staff: Medium
Editors:

Editor in Chief: Sarah Elbert
Executive Editor: Jennifer Buege
Associate Editor: Sydney Berry
Senior Editor: Dana Raidt