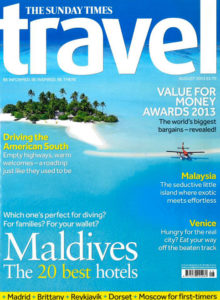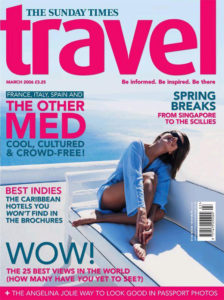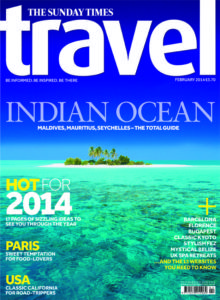 This London-based consumer magazine focuses on informative and inspirational travel articles.
Type of magazine: Consumer
Publication frequency: Monthly
Percentage of travel content: 100%
Language(s): English
Publisher: Times Newspapers Limited
Location of editorial: London, England
Website: www.sundaytimestravel.co.uk
Editorial positioning: "Every month, The Sunday Times Travel Magazine takes readers around the world in style, with the finest professional photography, the keenest, most colourful travel writing and the best-researched consumer journalism. In every edition there are 'enjoy time' and 'cash-saving' tips for holidays, a tear-out-and-go guide to the world's best cities, profiles on regions and resorts that are perfect for a weekend break, as well as features on amazing holidays with beautiful photographs."
Read online: Paid only at thesundaytimestravel.subscribeonline.co.uk/Back-Issues/the-sunday-times-travel-back-issues.
Circulation: At 28,022, it is the UK's highest selling travel magazine.
Total readership: Unknown
Target audience: Readers are experienced, savvy, and discerning as well as older, wealthier, and influential. 53% are female and 47% are male. Age ranges that read the magazine are 25-34 (21%), 35-44 (21%), 45-54 (24%), and 55-69 (34%). 56% of readers take between 3-5 breaks per year.
Editorial structure

Front of book sections: "Take me there…," "The Hotlist," "The Knowledge," and "Filter."
Features: These are pre-established categories including "Total Guide," "The Big Trip," "Lazy Cities," and "Instant Escapes."
Back of book sections: "Connect" and "Tips from the Top."
What to pitch: There are about 35 contributors per issue. Sections that use a contributor include "Take me there…," "The Hotlist," "The Knowledge," "Total Guide," "The Big Trip," "Lazy Cities," and "Instant Escapes."
"Take me there…" is a 250-word vibrant description of a destination (examples from recent issues include "Take me there…Galapagos Islands" and "Take me there…Castlerigg, Cumbria, UK." There are four subsections after an intro titled "Why now?," "Travel's Tip," and "Get me there" (which has a tour, package, or hotel information listed). There are three "Take me there…" articles per issue.
"The Hotlist" has eight pages of twenty total smaller sections. A recent issue's hotlist was about, "Need a reason to reach for your passport? We've got loads!" which included 50-word snippets of unique places and 150-word breakdowns (food, culture, fashion) from 10 international locations, as well as tech gadgets and packing essentials. This section is put together by a contributor in conjunction with a member of the editorial staff.
"The Knowledge" is "inside-track travel intelligence – from the experts." Articles range from 500-1,000 words with topics such as determining if you should go on a structured or self-guided tour, how to make the most of air miles, and basic rules for camping. "Filter" is a 1,500-2,000-word article section with top picks such as best places to stay (with information on food, tips, price, etc.), the best of a particular type of excursion (six best holiday bike rides, for example), and the top things to do/see/stay in a city.
"Total Guide" is a 26-page feature with 16 contributors across six articles pertaining to one country. Examples of articles/sections include beaches, islands, "Moments" (things not to be missed), hotels, a city profile, and fact sheet (with how to get around).
"The Big Trip," is a features section with "Journeys too good to leave on your bucket list." Articles are approximately 1,000-1,500 words and there are three articles per issue. Articles can be in first or third person.
"Lazy Cities," is a features section with information on how to ditch the crowds and explore a city at ones leisure. There are 10 articles in this section, approximately 600-800 words each. Articles are broken down into four sections, "Hassle-Free Friday," "No-Stress Saturday," "Easy-Peasy Sunday," and "Get Me There."
"Instant Escapes" is a features section with guides that can be cut out and taken with the reader. It has four escapes per issue, examples of which are "Gourmet Lyon," "Sizzling Hong Kong," "Summertime Suffolk," and "Hip Geneva." The cutout guide and additional information (such as where to stay and how to get there) total approximately 1,500-2,000 words.
Are there additional opportunities online? No
Pay rates: Unknown
Phone: 020 7782 7000
Email format: firstname.lastname@Sunday-times.co.uk
Size of editorial staff: Medium
Editors:

Editor: Ed Grenby
Deputy Editor: Nick Redman
Features Editor: Katie Bowman